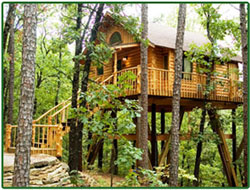 Welcome to Treehouse Cottages in beautiful Eureka Springs Arkansas, designed and hand built by the owners, Terry & Patsy Miller.

Treehouse Cottages features 7 treehouses all more than 22 feet off the ground with a stunning view of the surrounding woods. We also offer a 2-story cottage which features a hot tub on its private deck! All of our treehouses provide a Flat screen TV with satellite or cable, Free DVD movie library, WIFI, CD/Radio-iPod station. For your arrival, complimentary snacks, homemade pumpkin/cinnamon bread and beverages will be in your kitchen.
Create your own romance in the trees at Treehouse Cottages: a perfect place to fall in love! Our grounds make for the perfect outdoor wedding, elopement or vow renewal setting. We will be happy to help you in any way we can on your special day!